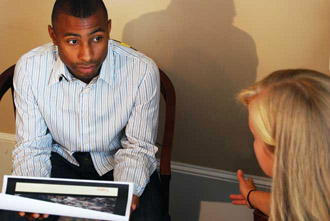 Robin Roman Wright, a career coach, seeks to provide high school, college and after-school educators, as well as guidance counselors and college career counselors, with resources they can use in order to better prepare students for their career. The resources listed on this web site are geared to helping teens and young adults successfully prepare for careers, enter the workforce, and contribute effectively to their work team's performance. In addition, the resources on the web site, used in the career counseling/coaching process, will help young people gain an understanding of their behavioral style, develop skills to improve their lives, and enhance their ability to make thoughtful decisions about their future. Lastly, some of the resources are specifically geared to developing leadership skills in teens and young adults. Listed below are some of the products and services that can help educators, guidance counselors and college career counselors serve their students and help coach/counsel the students in their career choices:

The Brag Book: Identifying What You're Good At


Managing Your Time: A Synopsis Of The Ideal Process


Career Decision Making: Defining What You Want
Programs/Resources for High School Aged Students
Brag Book℠: A Portfolio Activity Highlighting Your Achievements and Interests
In most jobs workers use 5–10 transferable skills over and over again. Do your students have an idea of what their skills are? If they are unsure, the Brag Book will give them a way to begin discovering them. Students have also used the information gathered in order to write impressive college essays. These ideas are also used during career counseling/coaching.
I-Sight®: A Way to Understand Yourself and Others
Described in the book and during career coaching, easy-to-understand language, I-Sight provides a guided exploration of behavior. It is a learning assessment designed for youth ages 12-18. I-Sight creates positive self-awareness and understanding of others by helping young people recognize and accept behavioral differences. A companion Instructor's Guide contains five flexible 50-minute high-involvement learning modules that you can tailor to your group's needs and interests. I-Sight is based on a DiSC® model, a research-based model used by over 40 million people, published by Inscape Publishing. This will help coach you to understand what kind of career your would be happy doing. To learn more about the DiSC® model and I-Sight click below:
Career Explorations:
A 6-session curriculum designed to be used weekly during 90-minute sessions. (Can be adapted to your schedule. Initial package includes 3 hours of train-the-trainer coaching/counseling.)
Call or e-mail for more information.
See contact information below.
Becoming a Person of Influence: Leadership Principles for Teen
A 6-session curriculum. Designed to be used weekly during 90-minute sessions. (Can be adapted to your schedule. Initial package includes 3 hours of train-the-trainer coaching.)
Call or e-mail for more information.
See contact information below.
Programs/Resources for College Aged Students, Career Coaching:
DiSC® Classic and other DiSC® Products: Improving Communication and Reducing Conflict
The DiSC® Classic provides young adults with practical, personalized feedback on their preferred behavior approaches and offers insight into the behavior of others. It helps coach people to understand their habits and have a framework and language for discussing their behavior, and changing it, should they choose to in order to see which career environment they will fit best. A few insights that young adults can gain:
See how their dominant characteristics can be both strengths and drawbacks.
Coach them to Understand how others interpret their actions.
Learn the strategies they use to understand, influence, and relate to other people.
Understand the career or work environments that are most and least comfortable for them.
The DiSC® model of behavior is a research-based model used by over 40 million people and published by Inscape Publishing. With 30 years of proven reliability, DiSC® Classic remains the most trusted learning instrument in the training and development industry. Colleges and universities use the DiSC® model too—training residence life staff to handle the diversity of people they will interact with, and their various behavioral styles, is one such application. DiSC® Classic can help coach people to improve communication in their personal and career life, ease frustration and conflict, and develop effective team members and leaders. Designed for adults ages 19 and up.
DiSC® Classic
Paper/Online. Available in English and Spanish.
Other Profiles & Workbooks
Time Mastery®, Personal Learning Insights®, and Personal Listening® profiles that help coach you to improve your knowledge and skills in key areas for career and leadership success.
Three of the profiles above have a companion facilitator's kit. These trainer's guides make it easy as an educator, administrator, guidance counselor or career counselor to design your own career counseling and training event. Topics that can be taught include: Communication, Conflict Management, Time Management, and Listening. These tools are also excellent for working with individuals in a counseling or mentoring role.
The three facilitator's kits are:
The DiSC® Classic Facilitator Kit
The Time Mastery Profile® Facilitator Kit
The Personal Listening Profile® Facilitator Kit
Interested?
To find out more contact Robin Roman Wright by e-mail at: coachrobin@leadershipandcareers.com or call (978) 447-1496.